If you own an optometry practice, you might not think much about the overall value of what you have built. However, the value of the practice is extremely important when you are ready to transition out of ownership. Also, if you are considering purchasing a practice, you will want to know its value. Value is critical when buying or selling, as well as in any other ownership transition.
You might intuitively realize that value is important, but determining value requires a different level of understanding. The best way to value a practice is to ask a professional to help you with this process. Nonetheless, understanding how value is determined and what factors affect value will give you a better idea of what adds value and what does not.
Factors That Affect the Value of an Optometry Practice
Valuing an optometry practice is not a simple task. You have to account for a huge amount of information, and some factors are not going to be as important or relevant compared to others. If you are purchasing an optometry practice, this will be the biggest decision of your professional career so it's important you keep levelheaded while evaluating your options.
The value of a practice can be extremely personal as well. A buyer, for example, wants to be sure that the practice meets their needs as they move into an ownership role. Things like expectations about work-life balance and working with other partners can profoundly affect the value for some buyers. Sellers also need to be careful not to "overvalue" their practice simply because they put their blood, sweat, and tears into the practice for years.
Below are just a few items that should be considered as part of the valuation process.
General Market Conditions
Market conditions will affect the price of an optometry practice that you are trying to purchase or sell. Unfortunately, there is little that either a buyer or seller can do to combat fluctuations in the market.
Market conditions can affect the purchase or sale of an optometry practice. If you know that the market is not good for buyers, you might want to wait a bit longer to make a purchasing move.
In some cases, buyers and sellers cannot avoid poor timing. However, if you plan out your purchase or sale long enough in advance, you should be able to make some minor adjustments to account for some shorter-term fluctuations.
Profitability (Current Book of Business)
When buying an optical practice, you want the practice to make you money. You should consider whether the current business model is sustainable and whether the practice will generate sufficient earnings to make the purchase price make sense. Income must also be available to service debt and allow you to bring home some income as well.
If the optometry practice is not profitable now, that should be considered when determining the value and setting the purchase price. You should also consider whether the practice has the potential to be profitable if you expand appropriately.
Practice Size and Location
The size of the practice will significantly affect the value. A larger practice in a prime location should generally be valued higher compared to a similar but smaller practice in a less desirable location. How long the practice has been in place will matter as well—is the practice old and established, or is it a start-up? Does it have options for growth, or is the business model simply set to be sustainable?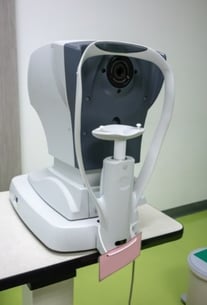 You should also consider location in terms of your personal preference as well. Location will certainly affect value generally, but a practice in an area where you want to live might be more valuable to you than another buyer or seller.
Asset Mix
Practices that own all of their equipment might be valued higher compared to a practice that leases their equipment. However, for some people buying an optometry practice, or selling one, owning equipment can be a burden rather than a benefit.
Intangible assets are a huge factor that you must consider when buying or selling a practice. Specifically, a practice's good name in the community can sometimes be the most valuable asset that an optometry practice has to offer for potential buyers.
Working Through the Valuation Calculation for an Optometry Practice
There are several ways to value a practice. However, four methods appear again and again in optometry practice transactions. Each method has its own benefits and drawbacks, and many methods will result in a different valuation for the practice.
Revenue Stream Method
The Journal of the American Optometric Association notes that the average valuation of an optometry practice is 58.7% of the gross income for the year before the sale of the practice. Valuations generally range between 40% and 70% of the prior year's gross income.
As a result, you simply take the optometry practice's prior year gross income and multiply that number by 58.7% of gross income. While this valuation may seem simple, there are a few important nuances. First, expenses are sometimes overstated, especially when you were not planning a sale in the prior year. The expenses should be closely scrutinized to be sure that they are within the normal range for a practice in that location. Size, demographics, and service mix should all be considered when determining whether expenses are reasonable as well.
In general, the higher the percentage number you use, the more valuable you think the practice is. A practice that uses a 65% multiplier, for example, may be in a great location, with a low cost of goods sold and updated equipment.
However, you will note that there is no real consideration of the value of assets in this type of calculation. While the multiplier can (and often should) be adjusted to account for the value of physical assets, they are not counted or valued individually, as they are in other valuation methods.
You might also want to think about the dollars billed compared to the dollars collected. If there is a big difference between these numbers, there could be an opportunity to increase revenue simply by increasing collection efforts or making other similar changes.
Capitalization of Earnings
This method attempts to lump together the value of the practice income stream and the goodwill that you are purchasing. It also encompasses the value of the physical assets as well. The capitalization of earnings method attempts to answer the question: "What would be a reasonable amount for a buyer to pay to receive a projected annual profit?"
The formula you use depends on two major factors.
Adjusted Earnings: This number is the earnings of the owner of the practice, less the cost of paying an optometrist a reasonable salary and benefits to provide the services in that practice. Essentially, it is the earnings of the practice (assuming you are a sole owner) less what you would pay yourself as an owner.
Capitalization Rate: The "cap rate" is a percentage that represents the risk associated with continuing the cash flow of the current practice. If the practice is older and established, for example, it may be less risky compared to a start-up practice that has only been around for a few years. Generally, the cap rate depends on the risk of investing in alternative investments (rather than the optometry practice), like stocks and bonds.
Because the capitalization rate represents an unknown risk, it is very subjective. Factors that might increase the rate (and the risk of the continued practice) might include things like the physical office location, nearby competition, rates of patient flow, and the value of its equipment.
The capitalization of earning method requires using the following formula:
Value = Adjusted Earnings/Capitalization Rate
Net Plus Assets
To account for both the profit of the business and the physical asset value, you can use the net plus assets method. This valuation method is perhaps the most widely used valuation method because it specifically accounts for the value of physical assets.
The formula is simple:
Value = Average Adjusted Profit + Physical Asset Value
Physical asset value is generally derived from the deprecation schedules from the practice's tax return. However, you should account for the actual resale value of the assets as well—those numbers are not always consistent with deprecation. Condition of the equipment, leasehold improvements, inventory, and furnishings should all be considered.
You might also need to go through an additional inventory count just before closing if you think the value is at least 10% different from when the value was initially established.
Debt Service Model
Debt is an important part of buying or selling an optometry practice, and it should be considered as part of the valuation process as well. The debt service model method reviews the practice's ability to service its debt above the reasonable compensation for its optometrists.
The formula is a bit more complex compared to other methods:
Value = (Annual Adjusted Earnings x 10 years) – 5% Fixed Interest Rate for 10 years
The formula uses a term of 10 years at 5% for standard financing terms in commercial lending for practices with similar cash flow and asset values over and above goodwill.
The interest rates can be adjusted to actual rates used if they are different than 5%. The financing time period can be adjusted as well. Using the actual information will give you a much more accurate valuation compared to simply using standard financing terms.
This method is not used often, but it can be the best valuation method available when most of the practice's assets are financed.
Getting Valuation Right
Valuation is important no matter if you are a buyer or a seller. You do not want to overpay in a purchase or get less than the full value of your practice as part of a sale.
If you need assistance with the valuation process, Dental Medical Counsel can refer an optometry lawyer. Additionally, we can help you complete a sale or purchase. Learn more about how we can help by contacting our office to schedule a complimentary consultation with optometry lawyer Ali Oromchian.