If you're considering starting your own optometry practice, you're probably feeling a mix of excitement and anxiety. You're not alone - many people wonder if it's the right time to take the plunge into entrepreneurship.
It requires significant reflection, research, and dedication to open an optometry business. But the perk of being your own boss while still having creative control is something that lures many in.
For optometrists who are recent graduates or have been working for years, the appeal of owning a practice becomes more and more appealing as time goes on.
Opening a private optometry practice is a huge decision, and there are many factors to consider. If you don't have the knowledge or experience needed to make informed decisions about everything, it can be overwhelming. The choices you make when opening a private practice will have a big effect on the way your practice grows and how successful it becomes. An optometrist lawyer is a resource you should strongly consider taking advantage of. An optometrist lawyer can help you at different stages of the process including a lease agreement.
You FEEL Ready
You will have to invest a lot of your time, energy, and money into starting your optometry practice. It can be difficult at first, but ultimately very rewarding. Do you think you're prepared for your optometry startup? Owning a business often requires working more hours than usual to make sure your venture is successful. As a manager, you're constantly having to make difficult decisions while also trying to stay up-to-date with the latest technology. Of course, you're also responsible for managing employees and patients. If you feel confident that you can handle all of these challenges on your own, then it may be time to take the next step in your career journey.
You Have a Business Plan
A business plan is key to success for any company and your optometry startup is no different; it acts as a map or guidebook highlighting your goals and how you plan to achieve them. It also goes into detail about your marketing efforts, financial projections and operational viewpoint. If you're looking to take out a loan from a bank or other financial institution, having a well-written business plan is essential. Your business plan should be an all-encompassing view of what you want your optometry practice to become - think of it as a professional dream board. You also want to determine if you're buying an optometry practice or starting your own from scratch.
If you plan to buy an existing practice, take a look at the optometry practice valuation. The average private practice produces an annual gross revenue of 60%. However, this number can change depending on the success of the practice. If you have a successful optometry practice that generates 2 million dollars in annual gross revenue, using the 60% rule of thumb for optometry practice valuation would not make sense. An optometry practice valuation can change depending on how successful the practice is.
The benefits of buying an existing practice are clear, including the fact that you're likely to inherit a wide patient base who are more likely to stay with you then to leave for a new optometrist.
When you buy an existing practice, you get to work with a skilled staff that is already accustomed to being in a professional environment. The only adjustment they will need is getting used to you as their new boss. They know how to communicate and handle different situations efficiently because they have been working together for some time now.
You can even have a look at the profit and loss statement before purchasing. While your numbers may vary somewhat from last year's profit and loss statement, you'll be able to get a good idea of how the business has performed in the past and what your profits will be immediately after acquisition. This is also an excellent method to boost your chances of qualifying for a loan.
By improving your odds of turning a profit in the first year, you'll be able to pay off your student loans much sooner! Having an existing patient base is crucial for high profits early on; rather than starting from scratch, build on what you already have. This can save you a lot of time because you're transitioning to running your own practice for the first time. You will need to provide current billing and payroll systems. While marketing will still be required, you'll have more time to get to know your new patients and form a relationship with them, rather than constantly having to think about how to acquire the next patient.
If you're not buying an optometry practice already in existence or don't know what to anticipate if you do, starting from scratch may be the way to go. This technique offers a number of benefits:
You'll be able to create your own business processes, which means the practice will operate according to your ideas rather than someone else's notions on how it should be run.
During your first few years in business, you'll learn critical lessons that will assist you later on. Some of these lessons are best learned through experience, and one way to do this is by starting your own company.
You get to make all of the selections; you'll pick your own company name, choose a site, design the structure, and select the equipment you wish to utilize. Rather than taking on staff members you don't get along with long-term, you'll hand-pick the employees for your new practice. Everything will be tailored to your preferences rather than someone else's expectations.
You Have Your Finances In Order
The cost of your optometry startup can be upwards of $500,000 so because this is such a large amount of money, most optometrists look towards securing financing from a financial institution. Underwriters will dig through your personal and business finances with a microscope to make sure the practice is worth their investment and that you're capable of paying back the loan. The process usually starts by examining the practice's income tax returns closely.
You Have Conducted Market Research
Understanding your local market is essential for establishing a successful practice. Determine who your competitors are and build off of that. If the area you want to start your business in is already overcrowded with practices, you may need to look into new locations
Understanding who your competition is can help you better position your marketing efforts to stay competitive and get your practice's name out there. Your optometry practice is more likely to succeed in an underserved market, and its success also depends on the demographics of your planned customer base. If you move to a college town, for example, there may be less need for optometry services than in a town with many middle-aged citizens or retirees.
The success of your business could rely on how visible it is from the street. If people can't see your office, they won't know that you exist. And if you're located in the back of a commercial space or down a long road, it'll be even harder for them to find you. So whichever location you choose for your business, make sure that there's enough signage both inside and outside the building - especially if it's not easily visible from the street.
And accessibility is important too—you need to have enough parking spaces (including handicapped-accessible ones) so that customers can easily get to you. The examination rooms and, if appropriate, the entry door should be accessible to persons with physical challenges. Consider public transportation accessibility if you're establishing an optometry practice in a big city. Many city dwellers don't own their own vehicle. Even in smaller towns, elderly patients or college students might not have a driver's license or drive.
You're Sure That You're NOT Under a Non-Compete Clause
If you have ever been an associate at another practice there's a possibility that you signed a non-compete clause in your contract. Whether you are buying an optometry practice or starting one from scratch this non-compete clause can not only determine when you're able to start up your own practice but also where it can be located.
In addition to a financial consultant, you will require the services of an optometry attorney. Your company plan might change based on the sort of business you establish. An optometry attorney can help you decide whether to form as a sole proprietorship, a corporation, or a partnership. Consider which type of incorporation is better for your situation before incorporating. It's also a good idea to get an optometrist lawyer to look over your lease before signing it.
An optometrist attorney can help you understand the terms and conditions of your commercial property's lease, as well as your rights of expansion and common area management. For example, you might want your lease to prohibit any additional optometry offices from operating on the site.
Dental and Medical Counsel can provide you with the employment law help you need to protect your practice. We work exclusively with dentists, physicians, optometrists, and veterinarians to offer advice and best practices that are specific enough for your business needs. Contact us today to set up a free consultation with optometry attorney Ali Oromchian.
At Dental & Medical Counsel, PC, we understand optometrists have trouble navigating the legal process. We believe every optometrist deserves the best advice and service so doctors can do what they do best, treat their patients. We make optometrists' lives easier by providing expert guidance, so they can focus on their personal and professional aspirations.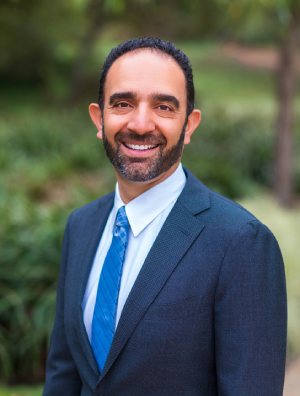 About Ali Oromchian, Esq.
Ali Oromchian, JD, LL.M. is the founding attorney of the Dental & Medical Counsel, PC law firm and is renowned for his expertise in legal matters
In addition to practicing law for almost 20 years, Ali is also a renowned speaker, throughout North America, on topics such as practice transitions, employment law, negotiation strategies, estate planning, and more! Ali has helped hundreds of optometrists realize their professional goals and looks forward to aiding you in navigating the legal landscape.