One of the toughest decisions a new dentist has to make is determining whether he or she will go into private practice or work with a DSO.
DSO stands for "dental support organization," or "dental service organization." A DSO is an entity that contracts with a dental practice to provide "critical business management and support including non-clinical operations." These operations could include accounting, billing, human resources, and so forth. There are both benefits and drawbacks to working with a DSO. The benefits could include:
Increased enablement to focus on patient needs
A lower financial barrier for entry into the dental profession
Some drawbacks could include:
Lessened authority over office policies and personnel
This article will discuss how DSO agreements differ from associate contract agreements in private practices, and why enlisting the aid of an experienced dental attorney may be helpful in making the right decision.
Level of Authority
In a private practice, dentists typically have a high level of authority over such factors as:
The processes implemented (such as check-in/check-out processes, hygienist tasks, etc.)
However, in DSO agreements the level of authority vested in the dentist can vary widely. This is manifested in three basic areas:
Treatment planning: In some situations, DSOs may attempt to stipulate that non-clinicians handle treatment planning and service recommendations to patients. This stipulation is not legal, and should not be an accepted condition when joining a DSO. In other cases, dentists may feel their services are compromised by proposed scheduling requirements from the DSO. In either case, a document review by an experienced dental attorney prior to signing a DSO agreement will protect the dentist from potential lawsuits.
Environment of care: Many DSO agreements give the DSO the final say in hiring and firing team members within the practice. This has sometimes led to continuity issues and personality conflicts within the office. In addition, the dentist may not have control over important business components such as office software and processes.
Other policies and procedures: DSO-mandated policies may not be compatible with the dentist's personal philosophy, or the dentist may disagree with the implementation of certain procedures.
It is vital that dentists carefully review a DSO contract to determine what their level of authority in-office would be, and advocate for working conditions that they would be comfortable with (such as full authority over treatment planning for themselves and their team).
Compensation and Benefits
A DSO may offer an attractive opportunity for dental school graduates struggling with a high level of debt. It should be noted that DSOs offer compensation in different ways; in some agreements, the dentist is paid a straight salary, while other contracts stipulate that the dentist receive a portion of collected payments. Certain DSO contracts stipulate that a dentist will receive a variable percentage of the total revenue he or she generates, partitioned into distinct tiers (such as $0 - 25,000 compared to $25,000 - 35,000, etc.).
Many private practices limit offered benefits in an effort to reduce operational costs. However, DSOs generally provide rich benefit packages to dentists who contract with them. These could include:
Other forms of insurance/insurance discounts (e.g., vision insurance, life insurance, etc.)
Larger DSOs (with 50 or more full-time employees) are required to offer health insurance benefits to their employees, and may be required to offer additional benefits, per federal regulations.
Professional Liability Insurance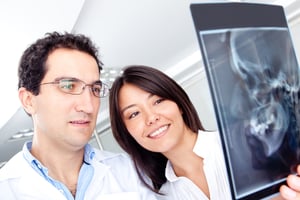 In most cases, the ideal situation for a dentist entering a DSO agreement is to maintain coverage from their original insurance carrier. Whereas private practices generally allow each associate to select their own malpractice carrier, DSOs often take on the responsibility to choose an insurer for their associates.
Of course, the best malpractice carriers are well-funded companies with solid reputations. If a dentist feels that the DSO-selected insurer does not meet these criteria, then they should request that they be allowed to choose their own, and then seek reimbursement from the practice for the cost of the DSO-preferred provider.
In addition, the dentist should carefully examine the DSO contract for any indemnification clause (in which the dentist must reimburse, or indemnify the DSO out of his personal funds for any liability resulting from the dentist's actions). Most experts recommend that dentists refuse to accept such terms in the agreement.
Terminating the Agreement
The majority of private practice agreements provide for a one-year term on the contract, with the option to terminate without cause given sufficient notice (anywhere from 30 to 90 days). Many DSO agreements do not allow associate dentists to terminate without cause, and may invoke heavy penalties for quitting the contract early. Dentists who have the ultimate goal of owning their own practice should be mindful of these common DSO contract terms before entering into an agreement.
Restrictive Covenants (Non-Compete Agreements)
The force of restrictive covenants varies from state-to-state. Certain "employer-friendly" states like Michigan allow for employers to significantly limit the actions of former employees with regards to the same profession, in the same area. On the other hand several states, such as California, Rhode Island, and North Dakota, are considered hostile towards restrictive covenants. California, for instance, prohibits restrictive covenants almost entirely.
That being said, the potential restrictions on future work are much greater with regards to DSOs, as compared to single-location private practices. Thus, a dentist must determine whether such a non-compete agreement would be acceptable to them, and also become familiar with the laws of their state that pertain to restrictive covenants. Again, such expertise can be provided by competent legal counsel, and it is advisable for dentists to seek guidance from an attorney who specializes in such contracts prior to signing any agreements.
Summary
As detailed in the above information, partnering with a DSO entails unique benefits and disadvantages. If you are considering such a partnership, it is vital that you educate yourself about the potential ramifications of such a contract. You should advocate for yourself, and never accept terms that will make you uncomfortable, or damage your financial well-being in any way. A reputable DSO should be willing to work with you in order to achieve a mutually acceptable accord.
If you would like the protection provided by professional guidance in making the decision whether to enter into a DSO contract, reach out to the legal experts at Dental and Medical Counsel today.